Yes, we do love a little celebrity gossip but we also know it's not cool to do something we teach our kids NOT to do. It's never okay to indulge in stuff meant to humiliate or hurt another person. That's why we publish celeb news MINUS any mean stuff. Have as much as you want because this "dish" is all guilt-free.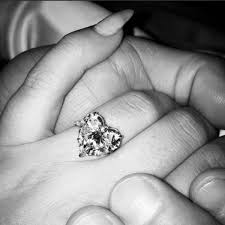 We're still amazed over the incredible performance Lady Gaga gave at the Oscars when she did a tribute to The Sound of Music and Julie Andrews. Gaga is recently engaged, too! Her fiance, Taylor Kinney, popped the big question on Valentine's Day with a heart-shaped diamond ring that is SO gorgeous. The singer said that she is sure Taylor is the right guy, saying that "We complement each other's weirdness." Congrats to the happy couple.
Wow. Age 46 never looked so good. One of our favorite Friends stars, Jennifer Aniston, turned 46 recently and celebrated with fiance Justin Theroux and friends including Courtney Cox, Amy Adams, Jimmy Kimmel and Emily Blunt. (And did you see Jennifer's dress at the Oscars? It.was.perfection.)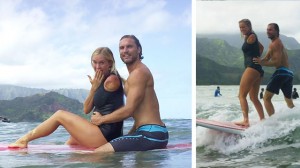 Bethany Hamilton, a championship surfer who lost an arm when she survived a shark attack, will become a new mom in June. She and her husband Adam Dirks announced that they're expecting their first baby, a son, early this summer.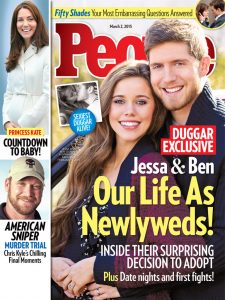 If you follow the Northwest Arkansas-based Duggar family and their TV show, you'll want to check out the interview with Jessa and Ben Seewald in the most recent issue of People magazine. There are some great photos of the newlyweds who share some of the details of adjusting to life as a couple. They also talk about their wish to adopt one day as well as have biological children. Jessa's sister, Jill Dillard, is pregnant and due to deliver a baby boy in the next few weeks. Jill is married to Derick Dillard.
Source: People magazine, Feb 23rd and March 2, 2015 issue