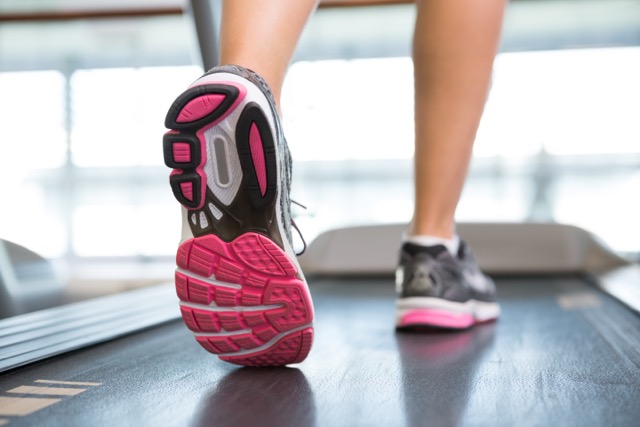 By Beth Gallini, runner mama of 2
The treadmill is a great training tool and provides an option to run when you might otherwise not be able to, whether that's because of the weather, it's too dark outside, or if you can only squeeze a run in while the kids are sleeping.
However, the treadmill frequently gets a bad reputation because it can be boring.
Trust me, I know – I used to be in the camp of calling it the 'dreadmill' and couldn't manage more than a few miles on it. But then my husband and I brought home two baby boys and I had to learn to love it in order to keep training.
Although I still prefer to run outside, I have found ways to enjoy running on the treadmill:
Have everything you need before you start. It is tempting to use the convenience of your home or gym to get what you need when you need it, but treat a treadmill run like running outside and be prepared. This means you should go to the bathroom before you start and have water and anything else you'll need with you on the treadmill so you won't have to stop once you start.
Dress for warm weather. Regardless of what the temperature is outside, you will warm up quickly on the treadmill, so dress accordingly. If you are cold at first, you can wear a long sleeve top that you can take off after you warm up.
Bring a towel. A towel will serve two roles on the treadmill. First, I highly recommend covering up your time, distance, and speed. Unless I am doing speed work with specific intervals that I need to track, I always cover up my data screen so I'm not watching it creep along. Second, you may want a towel to wipe sweat off your face.
Find a 'treadmill only' show. Whether it's a movie, a hit TV series you missed, a guilty pleasure reality show (me), or a sporting event (my husband), find something that will grab your attention and then only allow yourself to watch it on the treadmill. I pull up Netflix on my iPad and find a show that is a couple of seasons in to watch from the beginning — and then I only watch that show on the treadmill, so it serves as an added incentive. This was a game changer for me; I would not last long on the treadmill without having a show to watch!
Be sure to warm up. It is important to warm up when you first start your run and not crank the speed up right away. I find I need to warm up a little longer on the treadmill before I really get in a good rhythm, so be patient and find what works for you.
Play around with the speed and incline. A good way to get a little more from your workout and keep things interesting is to increase and decrease the speed and/or incline at random intervals. As I mentioned, I keep the time, distance, and speed covered and then I press the arrow keys up or down according to how I feel and see where I end up at the end of a run.
Expect it to feel different. Comparable paces will likely feel different when running outside and inside. Don't worry too much about matching the pace you would be running at outside and, instead, focus on running at the same perceived effort.
Happy Running!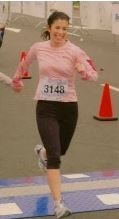 About Beth: Beth is mom, runner, running coach, and the blogger behind RUNNING around my kitchen. She and her husband adopted two boys who are a month apart and are 1 year old. Beth serves on the board for the Hogeye Marathon and is interested in helping other moms with their training and answering any questions you have.